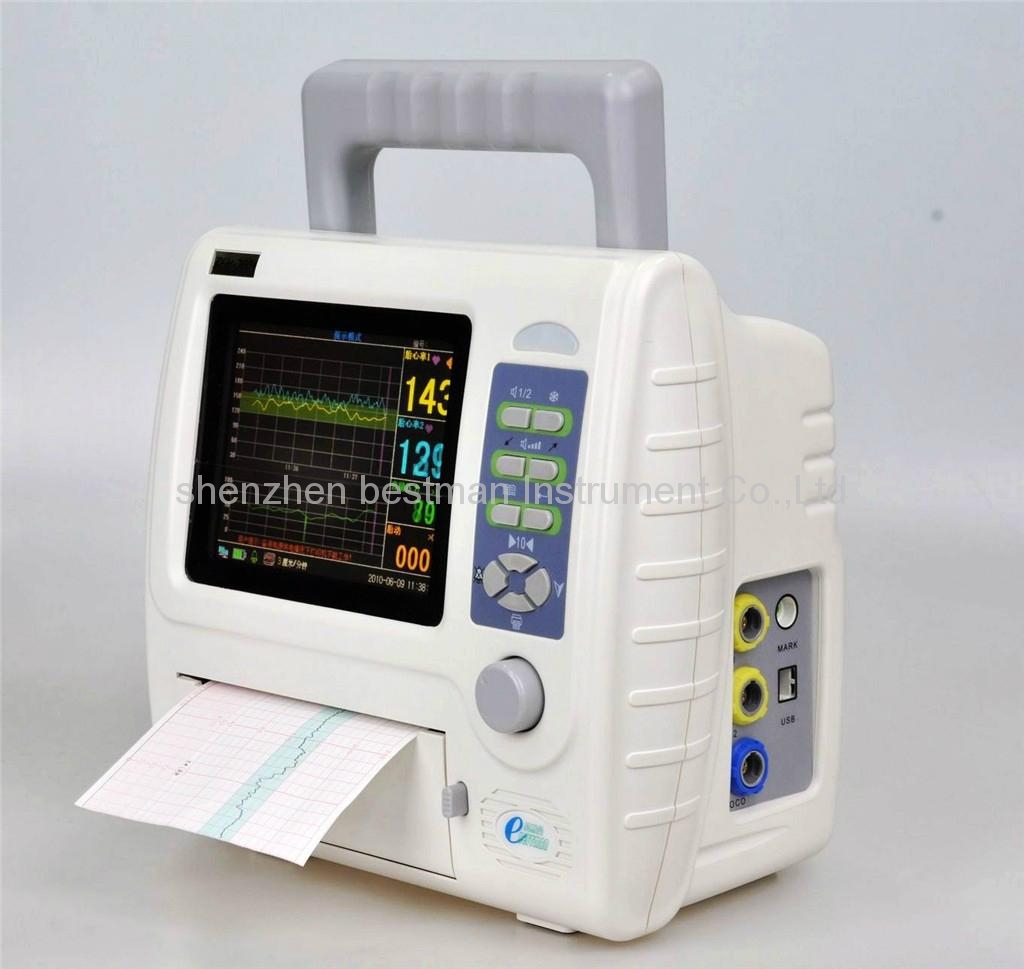 Bestman CE/FDA Portable Fetal monitor BFM-700+TFT Hospital Use
Model No.︰
BFM-700+TFT
Brand Name︰
BESTMAN
Country of Origin︰
China
Unit Price︰
-
Minimum Order︰
1 pc
Product Description
Features:
BFM-700+ is fetal monitor with USB for twin.
5.7 inches TFT LCD displays US and UC data with monitoring trace curve;
FHR collects signal indication, alarm indication for abnormal FHR, fetal movement indication, and can freeze monitoring status;
Can set the time limit (0-99 minutes), automatically entering dormant state if no signal input;
Store monitoring data for 24 hours, with replay function;
Coding keyboard adjusts all parameters setting of the unit, convenient to use;
Adopt 832 thermal linear array printer, store the data and print rapidly; and printing width is 112mm;
The printer parameters can be adjusted according to user needs, including printing paper speed, trace line thickness, signal sampling rate, upper and lower alarming limit, real time, and date;
Set-up data and parameters can be automatically saved after power off;
The monitoring data can be conveyed to exterior computer through RS-232 or USB port;

16 pcs of fetal monitors can be connected by central monitor system.
Trolly (adjustable) for option, convenient to move and operate.

Specifications:
1. US:
Transducer : 9 crystals, wide wave beam
Working mode: Pulsed ultrasound Doppler
Ultrasonic frequency: 1.0MHz±10%
Measuring range: 50-240 BPM
Alarm range: Up: 55-240 BPM Adjustable continuously within range
Low: 50-235 BPM Adjustable continuously within range
2. TOCO:
Display range: 0-100units (non-linear error: ≤±10%)
3. PC PORT:
Edition USB 1.1 or USB 2.0; RS-232
4. THERMAL RECORDER:
Paper width : 112 ± 2mm ;effective record width : 105 ± 2mm; Paper length : 15m
Recorder density : US: 27 BPM/ CM ; UC: 40 BPM / CM
Printing speed (adjustable): 1 cm/min, 2 cm/min, 3 cm/min
5. POWER and BATTERY:
Battery: 16.8V Ni-MH rechargeable batteries group; AC 220 /110 V ; Consume power: ≤ 50 W
Continuous working time in static condition: ≥ 2 hours
6. ENVIROANMENT REQUIREMENT:
Working Temperature: +5 ℃-40 ℃ Humidity: ≤80% Atmospheric pressure: 86 kPa—106 kPa
7. ACCESSORIES:
Model BFM-700: monitoring probe (1.0 MHz) 1 pcs
Model BFM-700+: monitoring probe (1.0 MHz) 2 pcs
UC probe ; event marker ; power switch ; cable ; 250 ml gel ; operation manual ; warranty card ; approval certification , each 1 pcs
Printing paper: 2 pcs

Packaging collocation:
Single Unit Suitcase Package Dimension: 45cmx22cmx42cm Gross weight: 7.5kg
Single Unit Paper carton Package Dimension: 48cmx24cmx32cm Gross weight: 6kg
Normative collocation: 1.0MHz probe, TOCO probe, remote Marker, switch power, cable, 250ml gel, operation manual, warranty card, approval certification, printing paper.

Trolly ( Option):
Model:BT-101M
Function:Fix BFM-700 series fetal / maternal monitor
Material:Stainless steel Gross weight : 12 kg Net weight: 10 kg
Maximal load:15 kg Height: 1200 mm Base diameter:¢ 650 mm
Related Products