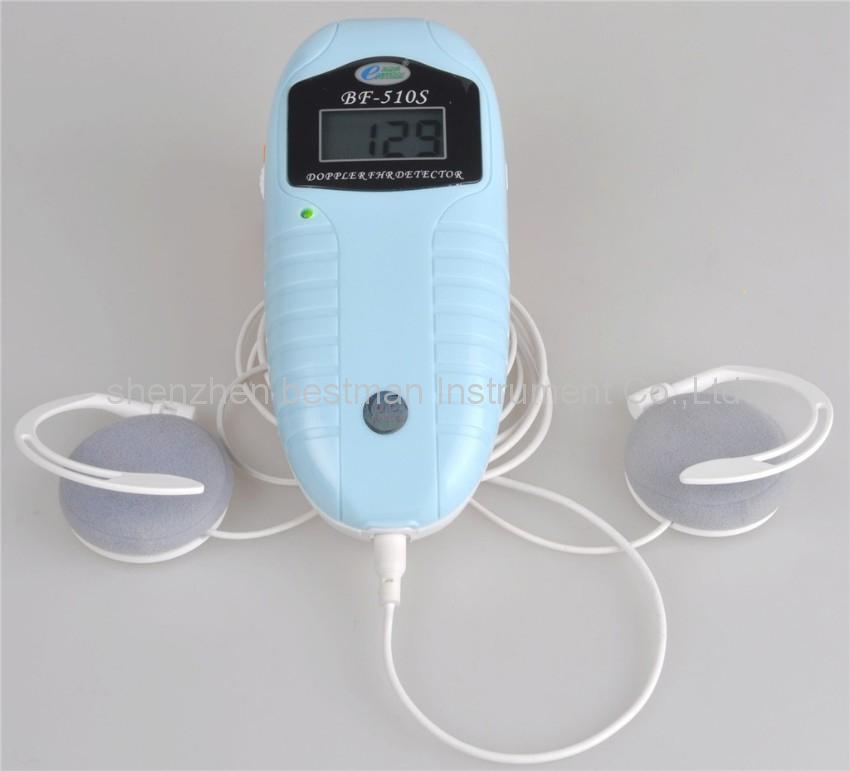 Bestman mini Fetal Doppler BF-510S Home Use
Model No.︰
BF-510S
Brand Name︰
Bestman
Country of Origin︰
China
Unit Price︰
-
Minimum Order︰
1 pc
Product Description
Features:
Pocket home-use fetal Doppler mainly applies to detect the fetal heartbeat rate from the twelfth week for pregnant woman at home;

Only 90g, the feature is designed according to Ergonomics, integrating the probe and mai unit;

LCD can display the FHR, and freeze current FHR data on LCD;

Built-in dry battery can work intermittent more than 4 hours;

Alarm function when FHR is out of the normal range or battery power is in shortage;

Collocated with earphone, and can hear the FHR clear and loud.
Special Tips:
The main purpose of Fetal home monitoring is to hear the fetal heartbeat, estimate the frequency of fetal heart beating in one minute, monitor whether the FHR(fetal heartbeat rate) is within the normal range(normal FHR range: 120-160bpm);
Advise pregnant woman to hear 5 to 10 minutes when hearing the FHR each time, and draw a form to record the FHR for inspection;
This model is not expert medical detector, only used to assist to hear the FHR and frequency of fetal heart during gestation. Please use according to doctor's advice and do not replace the conventional pregnancy test, Any questions concerning pregnant woman, please consult the doctor.
Specifications:
Executive Standard: EN61266: 1995

Ultrasonic frequency: 2.0MHz±10%

Ultrasonic intensity: ≤10mW/cm2

Comprehensive Sensitivity: ≥90dB

FHR range: 60--210bpm(±2bpm)

FHR alarm range: ≤100bpm or ≥160bpm

Isptp: ≤0.1MPa

Battery: 9V dry battery (optional for 9VNi-MH rechargeable batteries and charger)

Maximum audio output intensity: ≤1W

Doppler frequency: 100--3000Hz

Static continuous working time: ≥4h

Working temperature: 10-40℃

Humidity: ≤80%

Atmospheric pressure: 86--106kPa
Related Products