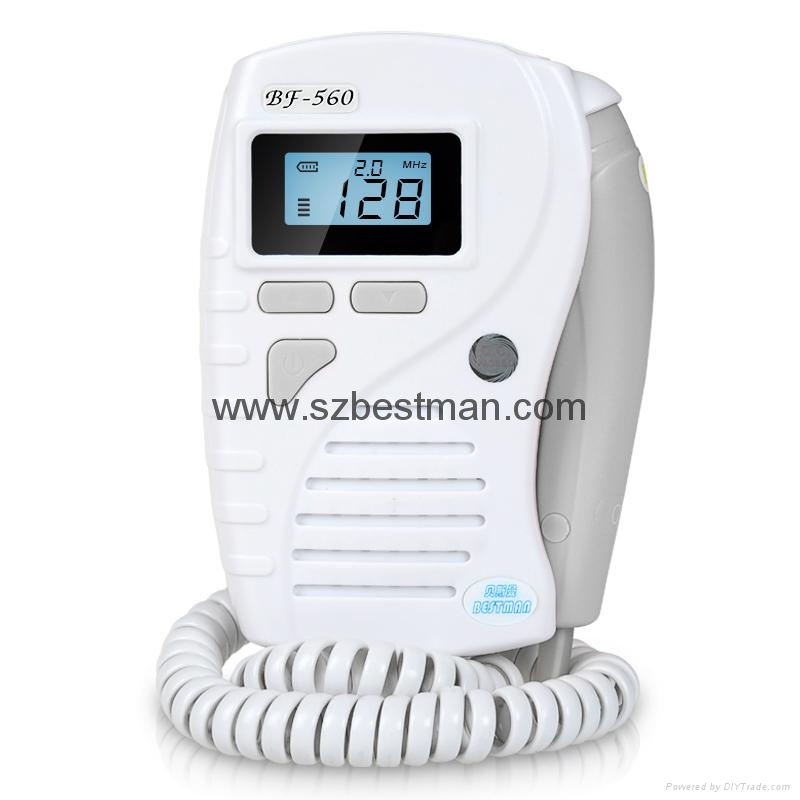 2017 innovative Fetal Doppler
Model No.︰
BF-560
Brand Name︰
BESTMAN
Country of Origin︰
China
Unit Price︰
-
Minimum Order︰
-
Product Description
Features:
White backlight LCD display, can be used at all kinds of ray;

High sensitive transducer, Low ultrasonic power, safe for fetus;

Friendly man-machine interface, easy to use;

Output function, the machine can connect to instruments which comply with IEC60601-1 ,can amplify and record the sound;

High-quality loudspeaker make the sound much clearer.

Specifications:
Executive Standard:EN61266:1995

Ultrasonic frequency:2.0 MHz(Standard) 3.0MHz/5.0MHz/8.0MHz(Optional),error: ± 10%

Ultrasonic power intensity:≤10mW/cm2

Comprehensive Sensitivity: ≥90dB

Measurement range: 50bpm–210 bpm Error: ±2bpm

Isptp:≤0.1Mpa

Doppler Frequency: 0-3KHz

Power Consumption:≤1.5W

Power off automatically:after 3 minutes

Working Mode:Continuous ultrasound doppler

Working temperature: 5-40℃

Humidity:< 80%

Atmospheric pressure:86-106kPa

Packaging collocation:
Dimension:35(Depth)×90(Width)×130(Height)mm

Net Weight:0.5Kg(battery included)

Power Supply: Size 5 alkalescence battery(1.5V x3) (alkalescence battery isn't

rechargeable)

Display:40×23 mm LCD display battery power, FHR and frequency of probe

Normative collocation:Main Unit, 2.0MHz Probe, 3.0pieces of 1.5V size 5 alkaline battery, gallus, service manual, maintenance manual and certificate.

Optional collocation: 3.0MHz/5.0MHz/8.0MHz probe, size 5 Ni-MH rechargeable battery( 1.2V * 3), charger, earphone, mini small sound box, ultrasound gel.

Related Products